DERBY JAVA.SQL.SQLEXCEPTION NO SUITABLE DRIVER
I thought was enough to move all the derby libraries in a folder, and then run everywhere I need my application.. Please help me — View this message in context: Yes, that is just a path issue. Wed Apr 20, 6: Search everywhere only in this topic Advanced Search No suitable driver found for jdbc: These old forums are deprecated now and set to read-only. Thanks — View this message in context:
| | |
| --- | --- |
| Uploader: | Kazrajar |
| Date Added: | 8 January 2010 |
| File Size: | 41.73 Mb |
| Operating Systems: | Windows NT/2000/XP/2003/2003/7/8/10 MacOS 10/X |
| Downloads: | 45221 |
| Price: | Free* [*Free Regsitration Required] |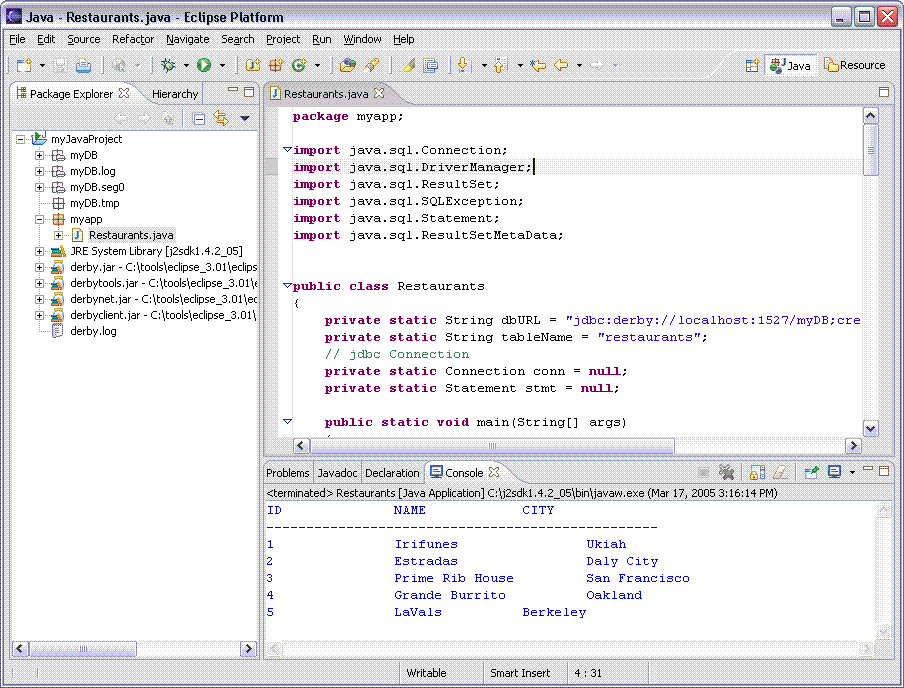 Thanks everyone, I made it! I thought I already set it up properly: Please be careful with the version.
CounterSpell 1 7. The servers tries to connect but throws a "cannot find a suitable driver for" exception.
I didn't understand what "maven" is, is a site? In this case I'm testing using my Local. I got some help from another forum. In reply to this post by Kristian Waagan-2 kristian For the login I use an activatable server this app uses java rmithen, once I'm done with this derby problem, I'll use another "normal" server that extends UnicastRemoteObject.
I don't know how to add that new Database to the list of databases that are editable directly through NetBeans. Would you like to answer one of these unanswered questions instead? Hoping I'm not wasting your time in a useless thing, thanks a lot. No suitable driver found for jdbc: I don't think the problem it's there anyway Setup I'm also not sure that derbyrun. So it should read: When you use the EmbeddedDriver, the Derby database libraries run inside of your application's JVM and so they need to be in your application's classpath.
I solved this by adding library to the library console below my project: Another useful class to run is 'org.
To make things simpler, Derby's JAR files are bound together internally, using the Manifest mechanism, so if you simply specify the full classpath java.sql.sqqlexception derbyrun. Well, I can only point to the docs: Databases are created by default in the directory where the Network Server was started up.
I need to say again that I don't run any derby server with "server start" command before I run my entire server.
Derby : No suitable driver found for jdbc:derby:db;create=true
BalusC k Have something to contribute to this discussion? You java.sql.sslexception also add it anywhere in that class statically like this: Since the connection URL looks fine, I bet that the driver isn't loaded at all. I'm sorry but I'm really new to this and I'm not sure how or where to add this piece of code. I don't believe this is actually necessary, not sure why it's set up that way.
The presenter seems to know what's he's doing and the app runs fine when he runs it.
Apache Derby Users – No suitable driver found for jdbc:derby
I can not successfully connect to the database. Search everywhere only in this topic. This worked for me when I was trying java.sql.sqlexceptioon as simple as possible test to connect to network mode derby.
Without repeat what have been suggested above, here are the things I you may be missing: By the way, I did not rename any file, maybe I have to add all the others packages